July 13, 2022: We're thrilled to share the news that Eagle Wing Tours has won an international award for our many marine education and outreach initiatives!
The National Marine Educators Association (NMEA), based in the US, has presented Eagle Wing Tours with its 2022 Marine Education Award for Outstanding Organization. The award honours "outstanding work and leadership by an organization or business in any aspect of marine education at the local, regional or national level."
NMEA is a member-based organization of classroom teachers, educators, university professors, scientists and more working together to advance the understanding and protection of marine and freshwater ecosystems. NMEA membership represents education professionals from all over the US and the world.
The award was presented on July 13 at the NMEA annual conference in Long Island, New York. View our thank you video to NMEA!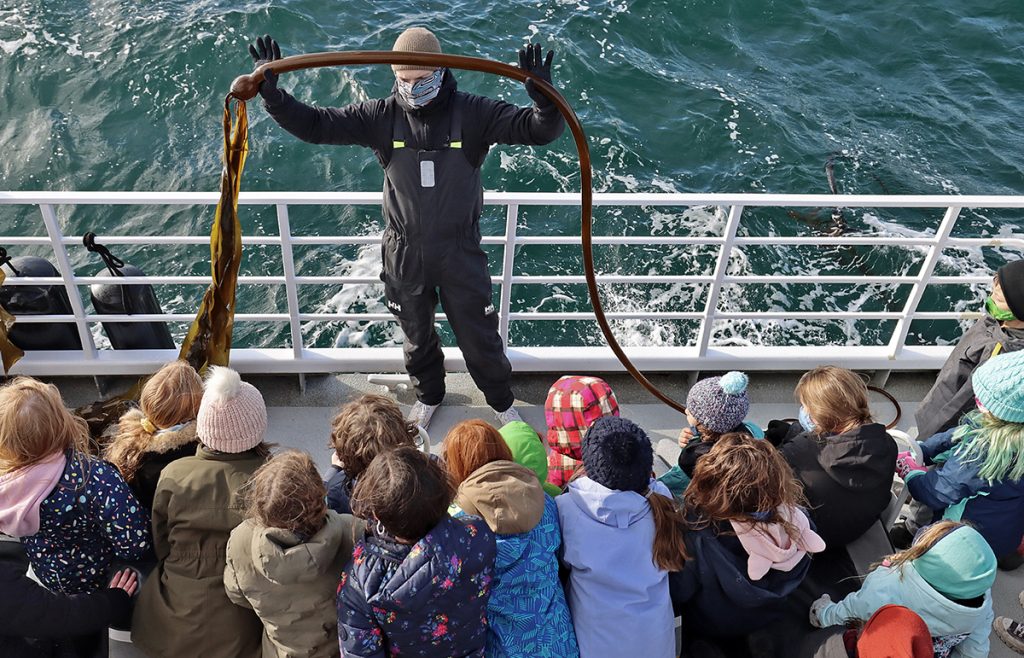 We're leading the way!
"Everything we do at Eagle Wing revolves around raising awareness of the ocean, and what every one of us can do to help protect it," says co-owner Brett Soberg, who along with business partner Don Stewart, acquired the company in 2005. Our vision from the outset was to advance marine conservation through responsible ecotourism and public outreach. This award tells us we're leading the way!
"We're truly humbled and grateful to our peers in marine education at NMEA for this recognition. It makes us even more determined to expand our educational reach in the coming years!"
Eagle Wing achieves its many conservation objectives through a blend of guest experience, educational programming and community outreach. Many of these initiatives are supported in part by a small per guest wildlife fee, participation in 1% for the Planet, and carbon offsets.
On our tours, we introduce thousands of guests from around the world to the Salish Sea. "Experiencing this remarkable ecosystem first-hand connects our guests on an emotional level," says Soberg. "We want to inspire them to be more aware of their own footprint, to make better choices, and to be more informed advocates for the marine environment—no matter where they live."
Our many outreach programs
Through our many outreach programs, Eagle Wing partners with a wide range of conservation, sustainability, education and research organizations in the region to build ocean awareness.
Our vessels are made available to community groups, underprivileged youth and conservation groups. We've co-founded several annual community events, including World Oceans Day celebrations at Fisherman's Wharf, the waterfront community where we're based.
We participate in school career fairs, live events on social media, school tourism programs, beach clean-ups, mentorship programs, and educational partnerships with organizations such as Greater Victoria Naturehood, Sea Rangers, the Bateman Foundation, and the Shaw Centre for the Salish Sea.
Our award-winning school program
The NMEA award follows on the heels of a 2022 Partnership Award from the BC Principals' & Vice-Principals' Association for our innovative "Exploring the Salish Sea" floating classroom program. The award recognizes groups and individuals who "have made a substantial difference in the lives of students in BC public schools."
Launched in 2018, the "Exploring the Salish Sea" program combines classroom, on-water and experiential learning to ignite a passion for the ocean among local schoolchildren. The program is integrated into the BC school curriculum. It's powered by Eagle Wing's core belief that cultivating a sense of wonder and connection with the natural world in young people is vital to a more sustainable society.
Community partners in the program are Victoria School District 61; the Royal British Columbia Museum; Ocean Networks Canada, a University of Victoria initiative; and Pacific Northwest Transportation Services.
To date, more than 4,000 local schoolchildren have participated in the program. The target for 2022/23 is another 4,000, including expansion to other school districts. The long-term target is 10,000 students a year by 2030.
The program consistently earns rave reviews from participating schools and teachers. It's so popular that there's a long waiting list to participate and the school district uses a draw to select which classes will participate.
Says one teacher: "There's no better way for our students to learn about the natural and cultural history of the Salish Sea. This incredible place-based education program allows students to experience our rich marine back yard in a safe and exhilarating way that will stay with them for a lifetime!"
Unique in BC and Canada
As far as we know, the type and scale of our floating classroom program—operated at no profit by a for-profit organization—is unique to British Columbia and Canada!
"This program fulfills a long-time dream of ours and has turned into a fantastic community collaboration," says Soberg. "It was never intended to be a money-making opportunity. If we can inspire kids in our community to move forward down that path of sustainability and conservation, whether it's ocean- or land-based, it's worth every second and every penny."
Adds Soberg: "From all of us at Eagle Wing, we thank NMEA for this incredible honour and distinction. We're now motivated more than ever to continue to knock this out of the park and inspire the next generation of ocean stewards. Building ocean awareness is the number one reason why we do what do!"
View our video about the "Exploring the Salish Sea" floating classroom program.
Read our fall 2021 blog about the "Exploring the Salish Sea" floating classroom program.
Learn more about our many education and outreach activities at Eagle Wing Tours.
Join us on one of our tours to learn more about our education initiatives and how you can help. Give us a call or book online!
Published July 14, 2022