Why Victoria has the best whale watching on Vancouver Island
Vancouver Island is world-renowned for its whale watching, and at the heart of the action is the city of Victoria.
Chances are you've travelled a long way (or you're about to) and you want nothing more than to fulfill your dream of seeing whales. Well, you've come to the right place.
Victoria is at the centre of the world's highest concentration of killer whales and other whale species, including humpback, gray and minke whales. It's where you'll have the best chance of seeing whales, and the mild climate and beautiful scenery don't hurt either!
Why Eagle Wing is the best whale watching company in Victoria BC
"I have been all over the world and have seen amazing things and this blew all of them away. Amazing knowledgeable tour guide, great boat, they provided all of the right equipment and everything was first class." – Ginna W. (from TripAdvisor)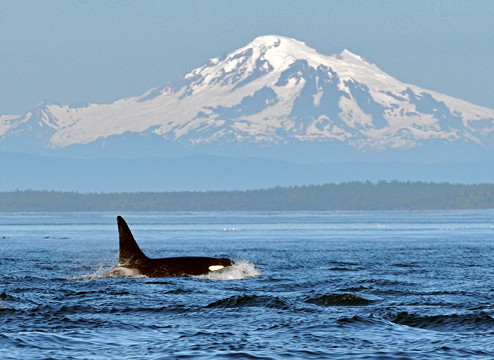 Eagle Wing Tours gives you more than just a look at whales, they give you the longest and most comprehensive whale watching tours in the industry. While other Vancouver Island whale watching tours are heading for shore, our experienced captains and crew are going the extra mile (or 50) to show you the gray whale feeding beaches, the eagles' nests, the hidden coves and all the other delights that make Vancouver Island so special.
While exploring the waters around Vancouver Island, you'll travel in comfort and style. Our high-performance boats are quiet, safe and smooth (no bumpy zodiacs here!), and feature creature comforts rarely seen on these types of adventures. Think over-stuffed seats, on-board washrooms, room to move around and a bunch of premium extras, including free use of gloves, toques, sunglasses, sunscreen, binoculars and blankets.
And if you don't spot a whale during peak season, we'll take you back out for free until you do! That's our whale watching guarantee.
The only sustainable whale watching in Victoria BC
"Eagle Wing is not your typical whale watching company. What they have done to support our local community and ecology is far beyond what I have seen in this sector.  They are truly leading change through their passion and commitment to the environment." – Jill Doucette, founder of Synergy Sustainability Consultants
Here at Eagle Wing, we've redefined whale watching on Vancouver Island. We take great pride in our exceptional customer service, but conservation is where we really count. We're Canada's first 100% carbon-neutral whale watching company, and we contribute to ongoing research projects such as orca adoption, photo identification, diving behaviour and movement patterns, and support local educational programs and non-profits.
We're privileged to work in the presence of such natural beauty, and it's our job to make sure it's here for generations to come!
Eagle Wing Tours offers the most environmentally responsible, professional, thrilling, comfortable and safe whale watching on Vancouver Island. We encourage you to learn more about what we do on our website, or you can always contact us toll-free at 1-800-708-9488.