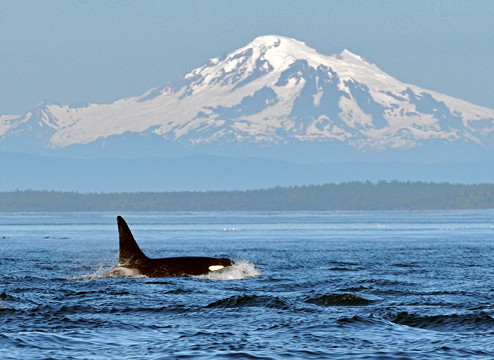 If you're in search of the ultimate family-friendly adventure, look no further. Whale watching around Vancouver Island is a thrilling adventure at any age. Whales, water, wildlife. What's not to love?
Our whale watching passengers have been as young as 3 months (and as old as 90!). It's an exciting experience that kids love.  As you well know, with kids, the key to a successful trip is to be as prepared as possible.
Here are a few things to keep in mind before taking your kids whale watching:
Book in advance
The peak whale watching season attracts many people from all over the world. To avoid child-unfriendly waits or delays, it's best to book ahead of time. You can book online or by calling us toll-free at 1-800-708-9488.
Park nearby
We're conveniently located right next to one of the cheapest pay parking lots in Victoria BC. For a mere $5.50 per day (for 12 hours!), you can park just a hop, skip and a jump from our convenient dockside check-in area. Your little ones will appreciate it.
Pack appropriate clothing
While Victoria does enjoy the mildest climate in Canada, don't forget that it's about 10 degrees cooler out on the water than it is on land. Children (and adults) should dress warmly and be prepared for all weather conditions.
That said, it's wise to dress your children in layers. It's better to be too warm than too cold! On a hot day, wear pants (you can always roll them up if needed) and a t-shirt or a light sweater. On a cold day, wear pants, a long-sleeved shirt and a warm jacket.
Don't forget that we also provide optional waterproof gear, as well as free use of gloves, toques, sunglasses, sunscreen and blankets.
Get them excited
While the thought of whale watching is enough to keep most kids up at night, we also offer a variety of online resources to further whet their appetite for whales.
Our Jr. Skipper's Zone has fun links to interactive games, interesting books, cool whale facts and other kid-friendly resources that'll get them interested in whales and conservation. You can also download and print our Jr. Skipper colouring book!
Pack a snack
Our tours are some of the longest in the business. While they're usually around 3.5 hours, we're not afraid to extend the tour time to make sure you see the whales.
So, it's a good idea to bring along some snacks and drinks. We offer dry storage on our boats to keep everything dry and tasty.
On a side note, all of our vessels are equipped with on-board washrooms.
We hope these tips will help you and your children have the best whale watching experience possible. If you have any other questions, don't hesitate to contact us.