Jan. 27, 2020
It looks like Takaya, the lone coastal wolf that has been living on a group of islands off Victoria for the past eight years—and seen occasionally on our whale watching tours—has begun a new life adventure!
Late on the afternoon of Saturday, Jan. 25, a wolf was spotted loping through the downtown Victoria neighbourhood of James Bay, not far from Fisherman's Wharf where Eagle Wing Tours is based. Yesterday afternoon, it was seen again and this time police and conservation officers managed to corner and tranquilize it.
Today, the wolf was taken to an "undisclosed wilderness location" further up the coast of Vancouver Island and released, says the BC Conservation Officer Service.
The wolf was confirmed to be a healthy, mature male. From its markings, it's believed that the wolf was indeed Takaya! He had managed to swim three kilometres or more from Discovery and Chatham Islands in frigid water, landing at some point along the Victoria shoreline. From there, he wandered several kilometres into James Bay.
Coastal wolves are a genetically distinct sub-population of the mainland grey wolf and are sometimes referred to as "sea wolves." They're smaller and leaner, and are notoriously strong swimmers. Coastal wolves are found all along the BC coast, mainly in remote areas far from human towns or cities. There are an estimated 250 wolves on Vancouver Island.
It's not known how Takaya got to Discovery and Chatham Islands, but he most likely swam there after taking a wrong turn into Victoria. He may have come from the Sooke Hills, west of Victoria.
Initial efforts to capture and relocate the wolf failed. The Songhees First Nation, which owns most of Discovery and all of the Chatham Islands, subsequently named him Takaya, which means "wolf" in the Lekwungen language.
The Songhees people assumed stewardship of Takaya, noting that his arrival coincided with the death of Chief Robert Sam, a member of the wolf clan who was instrumental in protecting the islands. They were adamantly opposed to any further attempts to live-capture the wolf.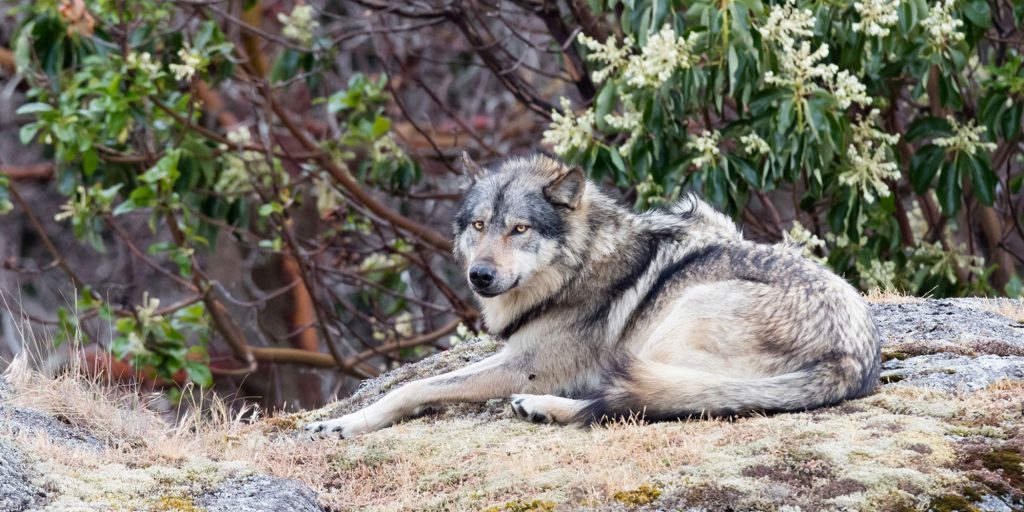 Another distinction of coastal wolves is their marine-based diet. Mainland wolves feed mostly on deer and other ungulates, with about 25 per cent of their diet coming from salmon. But coastal wolves survive almost completely on things like barnacles, clams, mussels, salmon, herring eggs, seals, river otters and even whale carcasses.
A study done several years ago in collaboration with the Songhees—and led by former Eagle Wing naturalist Dylan Collins—looked at Takaya's foraging habits. Shorelines were surveyed; hair, food remains and scats were collected; and remote cameras were set up.
Over 80 per cent of Takaya's diet was marine mammals—harbour seal, mink, river otter and Steller sea lion. He also ate geese, raided goose nests and was seen foraging for gunnel fish at low tides. There are no deer permanently on the islands, but occasional strays made up about six per cent of his diet.
Takaya's biggest challenge on the islands was water, since there's no natural freshwater source there. In the summer dry season, he dug "wells" throughout the wetlands. This behaviour had never been documented before in wolves.
Takaya is at least 10 years old by now, a tough age to be starting a new life. But, it was decided by authorities that he chose to leave the islands for a reason—whether it was the call of mating season or a shortage of food or both—and that the best thing to do was help him get back to the wilderness and the chance, however small, at normal pack life.
We wish Takaya well and are grateful for all the thrilling sightings we had of him over the years. We'll certainly miss him!
Read more about the wolf's misadventures in Victoria this past weekend.
Blog written by by Valerie Shore, Eagle Wing marine naturalist