Do you buy your daily cup of coffee in a disposable cup?
Do you drink water from single-use plastic bottles?
Do you throw away your empty detergent and cleaner containers?
Do you purchase your seafood without knowing where and how it was caught?
If you answered yes to any of the above questions, Eagle Wing Tours marine naturalist and educator Meaghan has an experience to share with you.
The BC coast isn't as pristine as we think!
Last May and June, Meaghan was one of 100+ people involved in an ambitious project to clean up garbage from several islands on British Columbia's northern coast. Also known as the Great Bear Rainforest, this marine region is renowned worldwide for its rugged beauty, spectacular wildlife and pristine coastline.
Turns out it's not so pristine after all.
Over a span of 42 days, the Marine Debris Removal Project (MDRI) removed a shocking 210 tonnes of human garbage from more than 300 km of shoreline. Items included everything from 90,000 plastic water bottles to more than 100 tonnes of fishing gear to styrofoam chunks the size of a small car.
What is MDRI?
The MDRI is a collaboration of the Small Ship Tour Operators Association of BC, the Wilderness Tourism Association of BC, Telus, the Ocean Legacy Foundation, Heiltsuk Horizon, Airspan Helicopters, and the BC government. The project also had the critical support of the Wuikinuxv, Nuxalk, Heiltsuk, Kitasoo/Xai'xais and Gitga'at First Nations, whose territories the project operated within.
The MDRI began in 2020 as a way to employ people in the tourism industry and Indigenous coastal communities during the height of the COVID-19 pandemic. In that first year, a whopping 127 tonnes of garbage was collected from the region.
If the two-year total—337 tonnes of garbage—doesn't blow your mind, it should. BC's central coast is far from any major urban centre. Items recovered came from around the globe. And both clean-ups covered only a tiny fraction of the region's coastline.
A life-changing experience!
The seven weeks spent with the project was life-changing for Meaghan. And that's saying something, because her résumé is already jam-packed: a degree in marine and coastal ecology; certification as a scuba dive master; coral reef research and education in tropical regions; sailboat owner; and marine naturalist.
She's also a green business entrepreneur. She founded Salt Legacy, which repurposes or "upcycles" old sails and turns them into waterproof backpacks and other products. Upcycling is a relatively new form of recycling in Canada, where 87% of plastics still end up in landfills.
"We think of Canada as having everything figured out when it comes to recycling. But we're not even close," says Meaghan. "We're not any better than anywhere else in the world. For me that's extremely upsetting and something I found out through this experience. Until then, I had no idea."
Here, in Meaghan's own words, are some thoughts for us all to ponder from her adventure…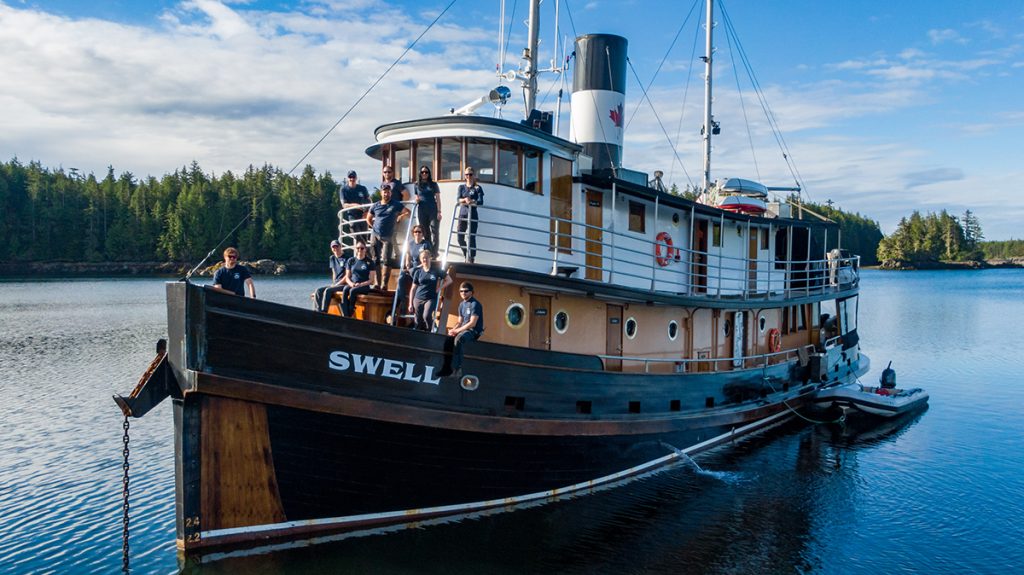 1. How did you get involved with the project?
I got invited very last-minute by a friend. She texted me the week before and said "Hey, is there any way you can go to sea for one to two months? [Laughs] At first, I thought no way. My business was crazy busy. I was busy at Eagle Wing too. But then I sat down with our operations manager and he said "You can't NOT do this." He was right!
2. Have you done beach clean-ups before?
I've done multiple underwater cleanups through scuba diving and I've participated in beach clean-ups all over the place. I'm especially interested in the educational component—such as how long a particular piece of garbage takes to break down and preventions we can all take. But this brought my beach clean-up experience to a whole new level!
3. Tell us about the clean-up team.
There were nine expedition vessels which were home base for each team. We also had a 150-ft. barge, a tug and a helicopter team. There was a crazy amount of planning involved. Our boat was a team of 11. I was surrounded by people who really care about the environment, talented naturalists, biologists and scientists.
4. What was a typical day like?
Once we got to one of the GPS-identified locations we'd comb the beach and into the nearby forest as far as we could go. This was no Sunday stroll on the beach. We were on rugged islands in the middle of nowhere, climbing over massive log piles that were super slippery and dangerous. And often in crazy wind and rain. It was the most physically and emotionally challenging thing I've ever done.
5. What did you do with the garbage collected?
We'd dump out the contents of our collection sacks in a central area on the beach and sort the garbage. After that, we put the sorted materials into labelled lift bags for the helicopter, which would take them to the barge. The last step was a "barge day" where the bag contents were dumped out again so that we could sort by type of material and source. This sorting was very time-consuming, but necessary.
6. Where does the garbage go from there?
We sorted into garbage piles and recycling piles, and by type of material. All plastic water bottles went into one bag, for example. All recyclable materials went to Ocean Legacy Foundation. Its goal is to clean up plastic pollution and stimulate the plastic circular economy through upcycling as much as possible. Our goal was to send their way at least 60% of what we were finding. And we met that goal!
7. Did the sheer volume of garbage get to you?
It was pretty regular that after a day of collecting we'd get at least a ton of garbage. Sometimes we'd get a two-ton day and it was almost rewarding, like "Woah, our team worked hard today." But then when you look at that volume and think about nine people collecting that over the span of an eight-hour day, and that there were other teams working other beaches, that's an insane amount of garbage.
8. Tell us about the emotions you felt dealing with all this debris.
I felt joy, fulfillment, heartbreak, sadness, exhaustion and amazement on a daily basis. Items came from all over the world—they would have all sorts of languages on them. Where it really got to me was the microplastics, which in some areas were intertwined with all the moss and lichen. The pieces are so tiny they're impossible to clean up. How far stuff went up into the forest was also devastating to see. But we had to stay focused on the big stuff. And that was hard enough. There were days when I went into the forest and just cried.
9. What garbage shocked you the most?
The volume of plastic water bottles. We collected 90,000 of them. Some of them were brand new. I can't even fathom how that many got there. All of them had caps on them. Are people screwing the cap back on and just throwing them overboard? Then we realized that the ones without the caps are sinking. So there are thousands or even millions more out there that we can't see. It's ridiculous because it's so preventable.
10. And there was a lot of fishing gear too?
It was unbelievable. It shook us all up to see the vast amount of nets, trawling floats and dragger balls. More than half of what we picked up was debris from the fishing industry. You look around and you think wow this is so much worse than you can even imagine. Here we are in this unique, remote environment with so much biodiversity, history and cultural significance and it's being treated like a global garbage dump. It's so disheartening.
11. Were there any good moments?
I found a Japanese glass fishing ball on my very first day! Some of these balls are hundreds of years old so they're prized possessions. Just the possibility of finding one kept us all motivated. There was a low-key competition among the vessels to see who could find the most. And when a ball was found it would be a welcome mind break from picking up garbage. We'd all cheer and celebrate!
12. Did you see much wildlife?
Oh yes. I was fortunate to tick off many species from my bucket list, including Pacific white-sided dolphins, fin whales, northern resident killer whales, bears, and coastal wolves—all in wild areas that very few individuals get to explore!
13. How do you feel about the experience now, months later?
So many questions remain. Will our hard work make a lasting impact? Will the materials we picked up actually get recycled? Will the fishing industry be held more accountable? Will governments be motivated to make waste stream changes for future generations? Every year 8 million tonnes of human debris enter the ocean. It's a very real and urgent worldwide problem.
14. What daily things can we each do to reduce the volume of garbage?
Here are a few off the top of my head. Consume less. Think about what you're buying and using. Avoid single-use bottles and containers. Invest in a reusable coffee mug. When choosing seafood, look for sustainable options from environmentally responsible fisheries—check out OceanWise and Seafood Watch. When shopping, be more curious about where items are coming from. Think of the ecological footprint it took to get it to you. Can you get it from somewhere local? Learn more tips.
15. Would you participate in this project again?
[No hesitation] I would hands-down do it again. Even though it was challenging and very emotional I feel like it's part of me now. I learned a lot about myself and about the environment. How can future generations move forward if this garbage is piling up and we don't take action now? In the end, it's all about education. It's the key to everything. Awareness leads to solutions!
What was the experience like? View Meaghan's video!
Blog published Jan. 10, 2022