Being safe while having fun is always our #1 priority
May 26, 2021
We know that this year, more than ever, you want to let loose with some fun and lots of fresh air and adventure. Right? And you want to do it responsibly with COVID-19 safety in mind.
We can help you—with all of the above!
We're now offering multiple tours a day on one of our semi-covered catamarans and on our two smaller open boats. All of our vessels give you that "wind in your hair" fresh air experience, with the larger catamarans providing you with more space to move around and maintain social distancing at your comfort level.
What we're seeing on the water varies daily and by tour, but the possibilities include killer whales, humpback whales, grey whales, minke whales, seals, sea lions, elephant seals, eagles, sea otters, birds galore and magnificent scenery—all in our big blue playground we call the Salish Sea!
Sounds great so far, right? But wait. Is whale watching a safe thing to do right now? What COVID-19 safety measures does Eagle Wing have in place? Where can you learn more about those safety measures?
These are all good questions that you should be asking—and we're happy to answer.
Our COVID-19 Safety Pledge to you!
It is possible to have fun on the water during a pandemic and stay safe. We've proved that in the months since we reopened last July. Since then, thousands of you have come out on a tour with us to enjoy the amazing wildlife, stunning scenery and abundant fresh air of the Salish Sea.
Now, moving into year-two of the COVID-19 pandemic (and, hooray, the mass vaccination program—have you got yours?) our extensive COVID-19 safety measures are more important than ever. We take the health and safety of everyone—guests and staff—very seriously. It's our highest priority.
Our COVID-19 policies and protocols continue to be guided by the advice of public health authorities, WorkSafe BC and Transport Canada. These measures—consistently praised by our guests—remain in place and are regularly reviewed and updated as new information comes in from authorities.
Our measures include:
contact-free check-in
mandatory masks/face coverings
reduced guest numbers per vessel
a dedicated health and safety coordinator (exclusive to our company!)
enhanced cleaning protocols
multiple hand sanitizer stations
outdoor seating options
friendly reminders to socially distance where possible.
Learn more about what we're doing to keep all of us safe—and what you can do to help in Our Safety Pledge.
You'll notice that we insist on face coverings. They're mandatory for everyone—our staff included—from the moment you check in until you return back to our office after your tour. It's an operational requirement and is not negotiable. Bring your own. Or we're happy to provide free face coverings at check-in.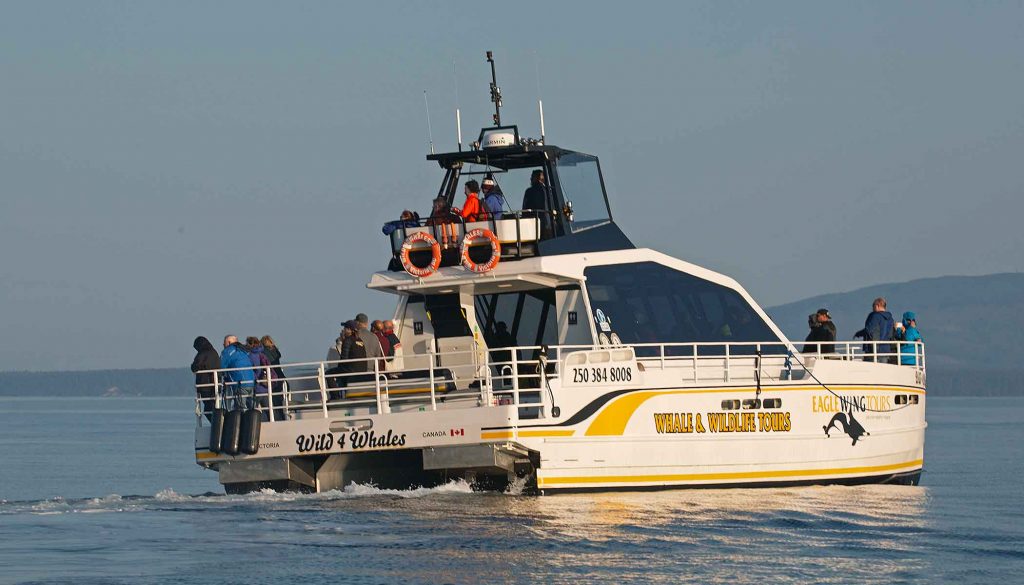 Discounts—you've earned them!
To salute the sacrifices we've all made over the past 14 months, we're offering a 20% discount for residents of the 13 municipalities within the Greater Victoria region. Get your promo code here.
The wildlife and the stunning scenery await you. We guarantee it will help shake out those winter cobwebs!
To book a tour visit us online, or contact us at info@eaglewingtours.com or 250-384-8008 or 1-800-708-9488.