Thinking of going on a whale watching tour while you're in Victoria? We're guessing you have many questions. Where do our boats go? What do we see? How long are our tours? How do we find the whales? What's the best time of day to go?
These are all great questions and we're happy to answer them for you. The first step toward enjoying your Salish Sea experience is to be informed. Here are seven questions we frequently get asked at our front desk.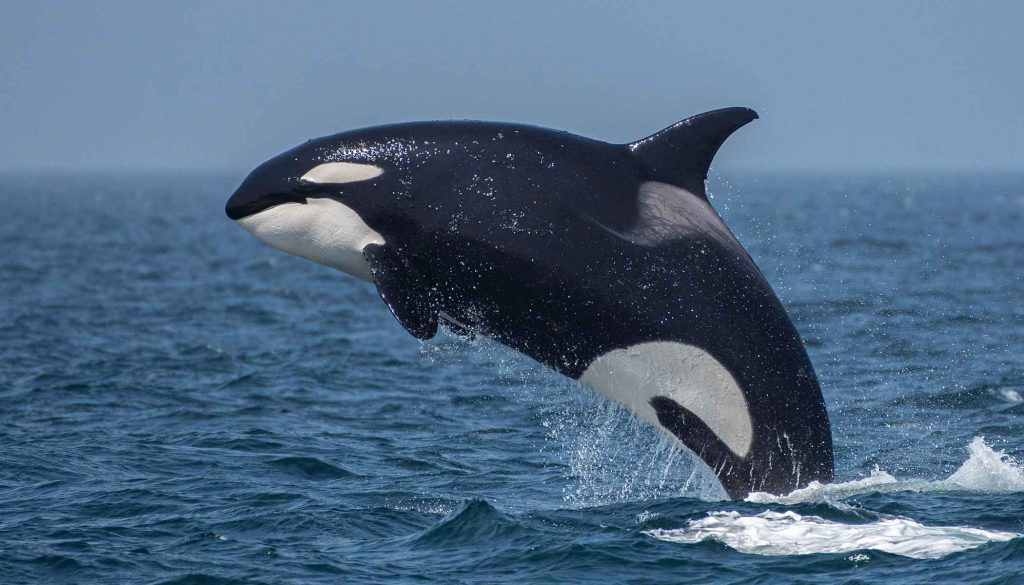 1. What's the best time of year to see killer whales?
Short answer: all year!
The Salish Sea is one of the best places in the world to see wild killer whales. In the peak summer season we enjoy almost daily sightings of mammal-eating Bigg's killer whales (also known as transients) which are here to hunt seals, sea lions, porpoise and rarely, larger whales. Bigg's killer whales can be seen anywhere in the Salish Sea, at any time of year.
A few years ago, salmon-eating southern resident killer whales were regularly seen from May through October, feeding on their staple diet of chinook salmon. But due to the drastic decline of chinook salmon in recent years, these whales are rarely here now. Our company does not intentionally view this endangered population, even in the rare times they are here.
2. What's the best time of year to see humpback whales?
Short answer: summer and fall!
Humpback whales have made a spectacular comeback in the Salish Sea over the last two decades. In recent years, we've seen 100+ of these huge whales on some tours in late summer and fall when they come here to fatten up on krill and small schooling fish.
In the "winter" months—from December through March—humpback sightings are less frequent in the Salish Sea. Most of them go south to places like Mexico and Hawaii in the winter, although in recent years a few hardy individuals seem to be sticking around most months of the year!
3. When is the best time of day to see whales
Short answer: anytime!
The whales aren't more active at any particular time of day. We suggest choosing a whale watching tour that works best for your schedule!
In the mornings, we might spend more time searching, but there's nothing like the thrill of being the first to spot a whale or group of whales! The afternoons can sometimes be windier, yet the whales can be more playful in rougher water conditions. On our evening tours the whales continue to go about their business—while we enjoy the blazing colour of a West Coast sunset!
And don't forget that we offer a Whale Guarantee during our peak season, which runs from April through November. With a sightings success rate of more than 97% in that time period, we guarantee you'll see at least one type of whale on your tour or you come back for free!
4. How often do our tours see whales?
Short answer: most of the time!
The sighting rate for whales in the Salish Sea are fairly consistent over the years. If anything, humpback whale sightings are increasing as their population continues to repopulate their traditional feeding grounds in the Salish Sea. The chart below details our whale sightings for 2022.
Note that our overall success rate at seeing whales (the red line in the chart below) also includes other species of whale, including minke and grey whales. Every now and then we get rare visitors, like a fin whale! It's never a dull moment when whale watching in the Salish Sea!
5. How do we find the whales?
Short answer: teamwork (and a little bit of luck)!
As our whale watching vessels get ready to leave the dock in the morning, we consider sightings from the previous day. We use our knowledge of whale travel habits to decide where to start searching. Just like humans, some whales have favourite travel routes. It also helps that we know where their favourite "restaurants" are!
As we search, we coordinate with other companies to cover more area, and we all share sightings information. We also have an extensive network of people who call in with sightings from shore, ferries, fishing boats, private vessels and sometimes even float planes. This ensures a high sightings success rate!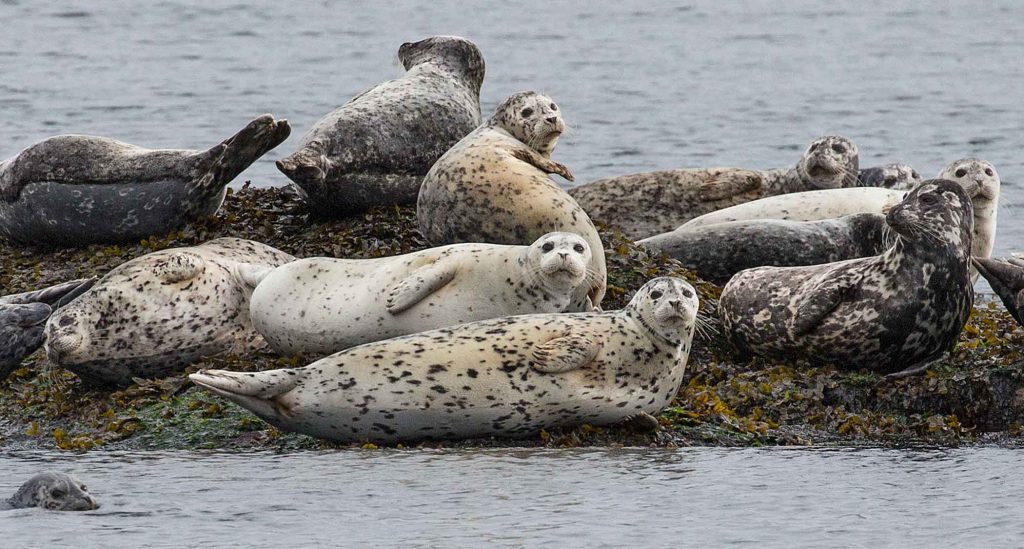 6. What else do we see on our tours?
Short answer: there is no short answer. It's a long list!
Sure, the whales tend to hog the spotlight. They're so big and charismatic. But they don't live in isolation. They share this beautiful inland sea with almost 3,500 species of mammals, birds, fish and invertebrates. No, we don't show you all of them, although we would if we could!
Showing you how everything in the Salish Sea is connected—from nesting seabirds and resting seals and sea lions to frenzied bait balls and swirling kelp beds—is important to us. And to you. It helps us all appreciate the whales within the bigger ecological picture.
And let's not forget the spectacular scenery—from lighthouses to majestic Mt. Baker and the snow-capped Olympic Mountains and the maze of straits, channels, islands, inlets and estuaries that make up this spectacular place!

7. How long are our whale watching tours?
Short answer: as long as it takes!
On our day tours—which are at least 3.5 to 4 hours, sometimes longer—you get an intimate look at the real West Coast—the whales, other marine wildlife and scenic spots that make the Salish Sea such a spectacular place.
We strongly recommend leaving yourself a bit of free time after your tour. Our company is well-known for extending tours as needed—depending on weather, and location and behaviour of the whales—to ensure you get an unforgettable experience. On our summer day tours, we literally go the extra mile (or 50!) as needed. Nature is flexible, and so are we!
Our sunset tours, which in 2023 run from May 16 through Oct. 1, are three hours long. By that time of day, we usually know where the whales are. In most cases we head straight to them, give you plenty of time to see them in action, then head back to Victoria as the sun sinks to the horizon in a blaze of colour (weather permitting!). A perfect ending to the day!
Book now!
Our whale watching tours leave from Victoria's picturesque Fisherman's Wharf at multiple times during the day. We offer two different boat styles to choose from: open and semi-covered. All vessels feature certified and knowledgeable captains and naturalists as your guides.
For more information or to book your tour, give us a call or book online!
Published March 21, 2023