The 2021 edition of Oceans Week Victoria runs June 6-13 and we invite you to get involved, no matter where you live!
Why is it so important to have a healthy ocean? What new technologies are helping us learn more about the ocean? What is the Salish Sea and why is it so culturally significant? What can each of us do in our daily lives to reduce our impact on the ocean?
These and other ocean-inspired questions will be answered in more than 100 family-focused activities and events. They include games and talks, a Zoom-based Ocean-Climate A-Chord concert, book readings, a scavenger hunt, a webinar on how to make ocean-inspired art from collected trash, film screenings, virtual subsea explorations, a family paddle adventure, ocean trivia games, and so much more.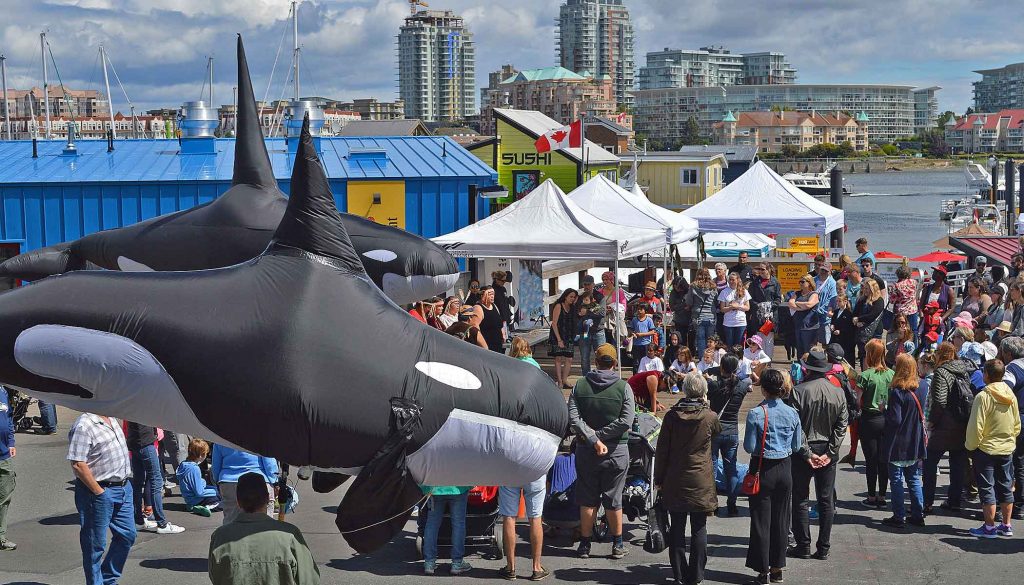 Eight days of ocean mania
You may be familiar with the popular World Oceans Day events hosted by Eagle Wing Tours and the Greater Victoria Harbour Authority at Fisherman's Wharf, the World Fisheries Trust on the Gorge Waterway, and the Shaw Centre for the Salish Sea in Sidney.
Thanks to COVID-19, those large in-person events are on hold for now. So, for the second year in a row, the usual World Oceans Day June 8 event is being expanded to eight days! Most of the content will be virtual although a few small in-person events are planned, with all safety protocols in place.
Eagle Wing Tours is proud to once again be one of the community partners organizing this year's festivities. "Getting to know our neighbours and building awareness on and off the water is essential to ocean conservation," says Eagle Wing co-owner Brett Soberg. "It's at the heart of everything we do at Eagle Wing."
Something for everyone
The United Nations has declared the 2021 World Oceans Day theme to be "The Ocean: Life and Livelihoods." Over the eight days, you can explore activities, events and learning opportunities that highlight how our lives and well-being depend on the ocean—and how the health of the ocean depends on all of us.
Browse the week's Activity Calendar and get involved. There are live virtual events, activities and resources for all ages. As always, the focus is on education, conservation and FUN!
Join via Zoom for the special kick-off event on Sunday, June 6. Play some ocean-inspired games, listen to marine-themed music and learn more about how you and your "bubble" can enjoy the week's festivities. Register here.
Themes for each day
Each day of the week has its own theme—Connection Sunday, Impact Monday, Technology Tuesday, Watershed Wednesday, Under the Sea Thursday, Fun Fact Friday, Sustainability Saturday, and Salish Sea Sunday. All put an emphasis on why the ocean is important to us and the actions we can take to reduce our impact on it.
Be sure to check out the video library, which includes some fun ocean-themed storytelling by Eagle Wing naturalists, biologists and captains!
Oh, and there are prizes to be won daily through Ocean 98.5 trivia and a virtual pub trivia contests on June 11!
About Oceans Week Victoria
Launched in 2020, Oceans Week Victoria is a volunteer collaboration among businesses, non-profits, scientists, educators, artists, and others on southern Vancouver Island to engage and educate the public about ocean issues through building partnerships and supporting ocean-inspired events around World Oceans Day.
We look forward to celebrating World Oceans Day in person in June 2022!
Oceans Week Victoria is affiliated with Ocean Week Canada.