Located just around the corner from Victoria's Inner Harbour is Fisherman's Wharf, a destination attraction beloved by locals and visitors alike.
This quaint and quirky waterfront community—which just happens to be home base for Eagle Wing Whale and Wildlife Tours—is unlike any other. It offers an array of colourful float homes, an artisan gift shop, a multitude of outdoor eateries, and other ecotourism attractions such as kayaking. It's a must-visit for anyone taking in the full downtown Victoria experience!
Take a harbour ferry right to the wharf. Enjoy some fresh seafood, grab an ice cream or some sweets for dessert. Watch commercial fishing vessels unload their catch. Wander around the docks where you might just spot seals, river otters, herons, fish and some very cool marine invertebrates. Then be sure to hop onto one of our boats for a wildlife adventure on the Salish Sea!
Here are 12 fun reasons to visit Victoria's scenic Fisherman's Wharf.
1. Victoria Harbour Ferry
Beat the traffic and hop onto Victoria's most convenient mode of transportation with a Victoria Harbour Ferry. One of their stops is Fisherman's Wharf! Putter around the harbour or enjoy a narrated, scenic tour of the Gorge and surrounding waterways aboard what are affectionately known as "the little pickle-shaped boats." No time to take a tour? In the summer, enjoy their famous "water ballet" as you stroll along the Inner Harbour on Sunday mornings. It's not every day that you witness boats dancing on the water!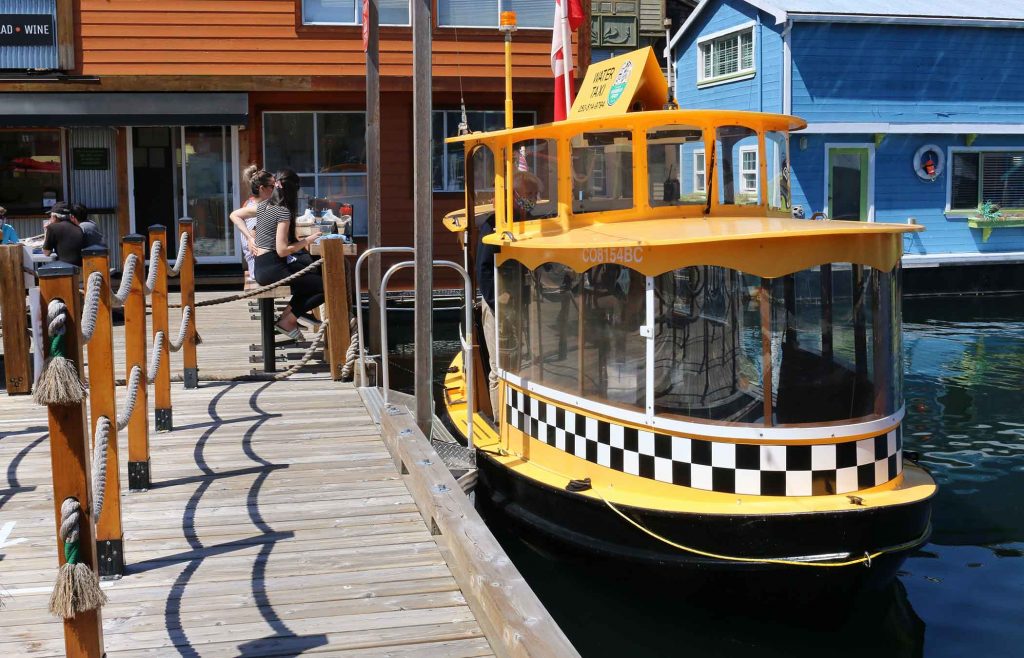 2. Coco Grill
Transport yourself to the tropical Pacific at Coco Grill Victoria. Specializing in seafood with a Polynesian twist, this floating take-out restaurant offers everything from prawn skewers to ceviche to Hawaiian burgers. Looking for veggie options? Try their red cabbage tacos or crispy avocado salad! The possibilities are endless but rest assured that no matter what you pick, the food here will make your mouth water!
3. Jackson's Ice Cream
If the heat of the summer has you craving some delicious, locally produced ice cream then Jackson's Ice Cream is the place to be! With an assortment of 16 daily flavours (which rotate on a day-to-day basis) along with non-dairy options, like dairy-free sorbet and waffle cones, Jackson's has you covered. Indulge in fan-favourite flavours like sea salt caramel and moose tracks, or opt for something different like their unique green tea flavour. When in doubt, keep it simple with their yummy soft serve. With all of these options, it means you'll need to keep coming back if you want to try them all. We wouldn't blame you if you do (we might have indulged too!).
4. Barb's Fish & Chips
If the name doesn't stand out to you, their large-scale floating restaurant certainly will! Barb's Fish & Chips takes the title for the first food service at Fisherman's Wharf! It has been in operation since 1984, offering visitors a unique seaside dining experience. The menu is packed with options, from their iconic two-piece fish and chip and seafood chowder, to their black bean veggie burger and namesake Barb's burger (packed with bacon, cheese and mushrooms).
5. The Fish Store
Fresh, local and sustainably sourced seafood has never looked so good. The Fish Store offers a 100% Oceanwise-certified (sustainable) menu including salmon chowder, steamed mussels and oysters, halibut fish and chips and Dungeness crab. But don't let the name fool you, The Fish Store also offers gluten-free and vegetarian options, like their delightful edamame wrap and salads. Pop on down to their dockside counter, grab yourself a fish and chips, and take a seat along the water as you revel in the sights and sounds of the wharf. You might even spot a seal!
6. Puerto Vallarta Amigos
Mexican and seafood: two food groups you'd never expect to complement each other. But take one bite of the shrimp ceviche at Puerto Vallarta Amigos and you'll quickly realize that you've been missing out! If ceviche isn't quite your thing, dive into their esteemed fish tacos, burritos or prawn cocktail, or tortilla soup. Wash it all down with a cold cerveza, enjoy their feel-good music and relax with your meal underneath their illuminated pergola.
7. Pirate Pizza
Ahoy, matey! Do you know the best time to buy pizza? When it's on sail…or whenever you're a-round. Get it? It's cheesy, we know, but so are the delicious pizzas at Pirate Pizza. And while pizza is certainly their specialty, they also have made-to-order chicken wings and salads. Take a seat at their seaside patio, order to-go or enjoy a slice while strolling along the floating boardwalk. Vegetarian and gluten-free options are available on request.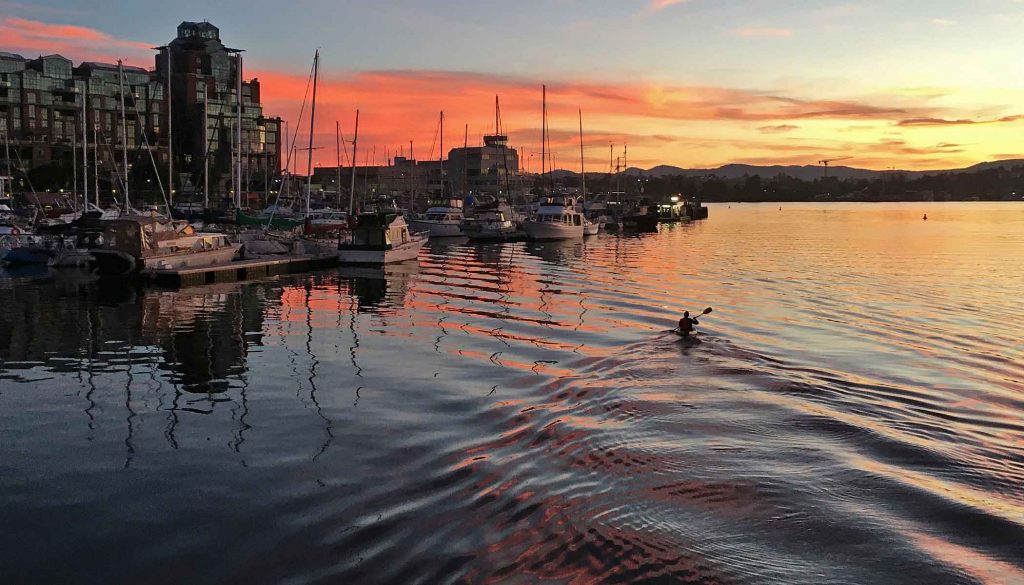 8. Fisherman's Wharf Bed & Breakfast
Are you charmed by the float homes down at Fisherman's Wharf? Well, with a bed & breakfast right on the dock, you no longer have to daydream about what life on the water would be like! Experience it all with this two-bedroom, two-bathroom suite with a private balcony sitting a mere two feet above the ocean. Don't be alarmed when your pesky neighbours—the harbour seals—pop up to welcome you. If that doesn't sound perfect enough, book a stay and you'll get a 20% discount with Eagle Wing Whale Tours.!
9. Sweets at Fisherman's Wharf
As if your day at Fisherman's Wharf wasn't sweet enough, top it off by satisfying your sweet tooth with a delightful treat at Sweets at Fisherman's Wharf. Better still, we dare you to walk by without pausing to savour the smell of fresh, warm mini donuts being baked—you won't be able to resist! Relive your childhood memories with cotton candy, dive face-first into caramel popcorn or simply enjoy a handful of saltwater taffy. If the heat has you panting, their slush puppies will be sure to curb your thirst.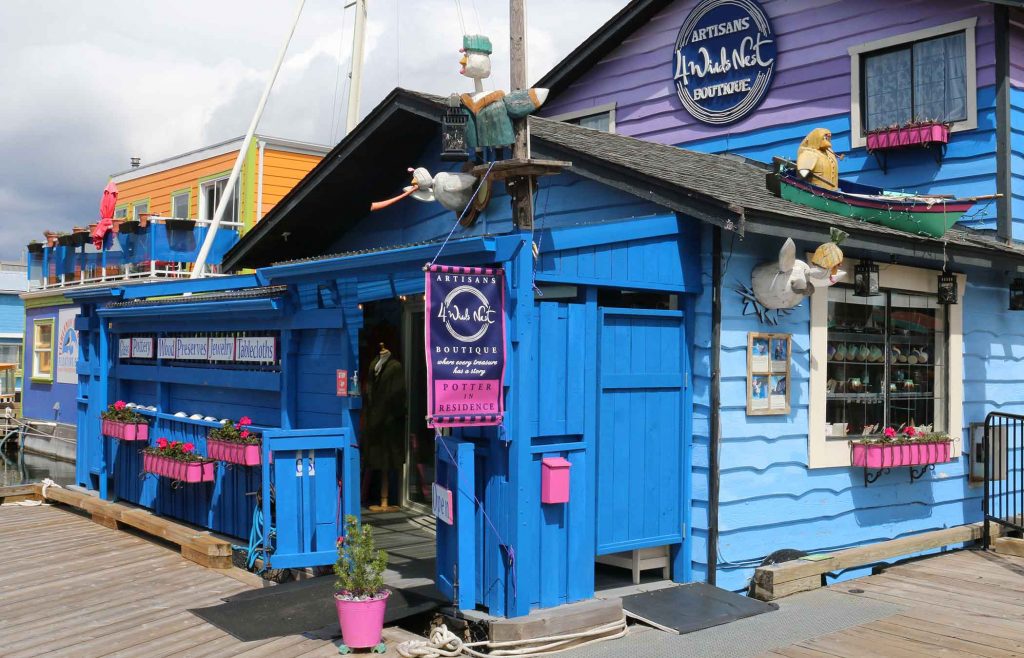 10. 4 Winds Nest Artisans Boutique
If you're visiting Fisherman's Wharf, you might as well treat yourself to a souvenir or two at 4 Winds Nest Artisans Boutique. This colourful gift shop offers locally produced artisan pottery, jewelry, soaps and more. The boutique goes one step further and offers handmade organic cosmetics and preserves, perfect for sustainable and health-conscious buyers wishing to support small, local businesses.
11. Kelp Reef Kayaking
If you're eager for an experience on the water, but can't see yourself hopping on a boat, then "seas" the moment with Kelp Reef Adventures kayaking tours. Join experienced guides for an up-close and personal encounter with seals, unparalleled views of Victoria's Inner Harbour and lasting memories of sunsets paddling on the water. These tours are tailored for you and your busy schedule with options for two-hour and three-hour excursions, along with discounts for families booking with children (aged 7-12). Paradise really is anywhere with a kayak!
12. Eagle Wing Whale & Wildlife Tours
Last, but certainly not least, join us here at Eagle Wing Tours for an unforgettable tour of the Salish Sea with all of its many marine inhabitants—from whales and porpoises to seals and sea lions to sea otters and eagles. And lots more!
What's the experience like? Here's a little video teaser!
Our #1-rated ecotourism company has an unmatched commitment to conservation, sustainability, research and education. We offer tours on two boat types: open scarab-style vessels, where you can enjoy the wind in your hair; or deluxe semi-covered catamarans for a more relaxed adventure.
We have a selection of tour options to fit your schedule. Our 3.5 to 4-hour daytime summer tours depart at regular intervals throughout the morning and afternoon. Our 3-hour summer sunset tours leave at several times in the evening. All tours provide expert and personalized interpretation from onboard marine naturalists, so you'll be sure to remember this once-in-a-lifetime experience!
As an added bonus, booking a tour with us will get you a 10% discount at all the eateries mentioned above (ice cream and alcoholic beverages excepted), redeemable on the day of your tour!
To book a tour visit us online, or contact us at info@eaglewingtours.com or 250-384-8008 or 1-800-708-9488.
We look forward to seeing you soon at Fisherman's Wharf!
Updated July 31, 2023